Act of Confidence in God
Saint Claude de la Colombière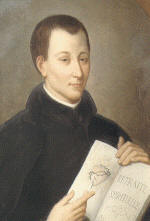 My God, I'm so persuaded that You watch over all who hope in You and nothing can be lacking to those who await from You all things, that I have determined to live from now on without any concern, lTo Jesus My Friend
By Blessed Claude de la Colombiere, S.J.

JESUS! You are my true Friend, my only Friend. You take a part in all my misfortunes; You take them on Yourself; You know how to change them into blessings; You listen to me with the greatest kindness when I relate my troubles to You, and You have always balm to pour on my wounds.

I find You at all times; I find You everywhere, You never go away: if I have to change my dwelling, I find You there wherever I go. You are never weary of listening to me, You are never tired of doing me good. I am certain of being beloved by You, if I love You; my goods are nothing to You, and by bestowing Yours on me, You never grow poor; however miserable I may be, no one nobler or cleverer or even holier can come between You and me, and deprive me of Your friendship; and death, which tears us away from all other friends, will unite me forever to You. All the humiliations attached to old age, or to the loss of honor, will never detach You from me; on the contrary, I shall never enjoy You more fully, and You will never be closer to me than when everything seems to conspire against me to overwhelm me and to cast me down. You bear with all my faults with extreme patience, and even my want of fidelity and my ingratitude do not wound You to such a degree as to make You unwilling to receive me when I return to You. O Jesus, grant that I may die praising You, that I may die loving You, that I may die for the love of you. Amen.
Prayer of Confidence
My God, I firmly believe that Thou watchest over all those who hope in Thee, and that we can never want for anything when we rely upon Thee in all things; therefore I am resolved to live in the future with no anxieties, and to cast all my cares upon Thee . . . Let others seek their happiness in their wealth or their talents; let them trust in the purity of their life, the severity of their mortifications, the number of their good works, the fervor of their prayers: "For Thou, O Lord, singularly hast settled me in hope."
As for me, Lord, in my very confidence lies all my hope. Such confidence can never be in vain. "No one has ever hoped in Thee and has been confounded." Therefore I am assured of my eternal happiness, because I firmly hope for it, and all my hope is in Thee. "In Thee, O Lord, I have hoped; let me never be confounded." I know, alas! I know all too well that I am frail and changeable; I know the power of temptation against the strongest virtue. I have seen stars fall from heaven and pillars of the firmament totter; but these things do not alarm me as long as I hope in Thee. I am sheltered from all misfortune, and I am sure that my hope will endure, for I rely upon Thee to sustain my unfailing hope.
Finally, I know that I can never hope too much in Thee, and that I will never receive less than I have hoped for from Thee. Therefore, I hope that Thou wilt sustain me against my evil inclinations; that Thou wilt protect me against the most furious assaults and cause my weakness to triumph over my most powerful enemies. I hope that Thou wilt love me forever, and that I will love Thee also, unceasingly. And to carry my hope all at once as far as it can go, I hope for Thee Thyself from Thee, O my Creator, for time and for all eternity.
Saint Claude de La Colombi
è
re
Sermon 68